No, I'm not hove to off Center Harbor. Maybe in August but not now.  Center Harbor can be found on the North side of Eggomoggin Reach, right in the heart of Wooden Boat Paradise.  It's also the home of Brooklin Boat Yard.
The Post title refers to a new web site created by some boat struck folks in Brooklin, Maine. It's subscription based and has many fine videos and blogs from local boat builders, sailors, designers and such.
Here's the link to the site. They're charging $29.00 per year for full access and lifetime memberships are available.  I've been a member for about six months and find the videos and blogs first class.  They introduce new ones on a regular basis.  It's a nice blend of practical advice and looking at beautiful boats.
There are a couple of videos available on the site for non-subscribers to give you an idea of what it's all about.  As they say in Maine….finestkind!
Here's a pic I "borrowed" from a Blog Post on the Temple Tiny Regatta held early in the season at Brooklin Boat Yard.  Folks having fun messing about in small boats.  That Skipper and crew sure look familiar…..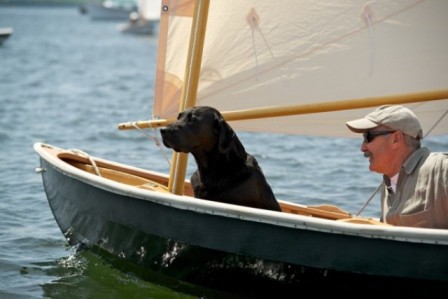 Hope you all check it out and sign up. Nice to have a bit more joy in the universe.