Meet Giacomo De Stefano, a Venetian on an improbable voyage from London to Istanbul to promote sustainable tourism and low carbon traveling. He and his crew Jacopo are now in Whitstable in the Thames estuary waiting for favorable weather to cross the Channel. They built an Ian Oughtred Ness Yawl in Venice in an art gallery. His Blog can be found here. He's had a few other adventures, the last being a voyage up the Po to draw attention to how abused that river has become.
…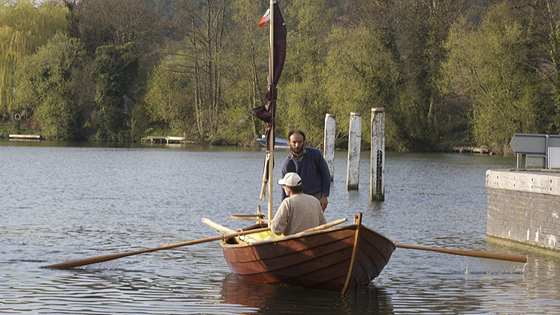 He's a delightful host with a serious message; follow along on this grand adventure.
No sailing this weekend. Huge pressure gradient with Westerlies a steady 20 gusting to the 30's. Here a few recent pics from Beaton's:
…


Myth, just launched after an extensive refit. She's a reproduction of the original Myth, a long time Bay Head native.
…


Marilda, a classic Jersey skiff.
…


A project interrupted. Nice dory skiff; an Amesbury I think.
…


Paul Smith prepping for varnish work on this pulling boat from Canada.
…


A long way from the Abacos. This little jewel has been around Beaton's for years. Hope to see her restored one of these days.